PAINTBALL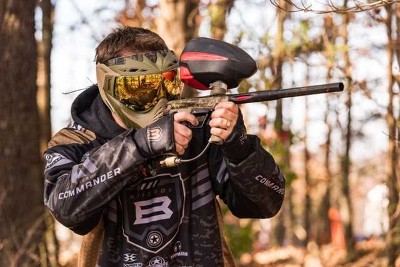 After playing paintball for the first time near Leesburg, Virginia in the early nineties and immediately falling in love with the game, Josh has been writing professionally since the mid-nineties, when some of his earliest articles were published in the pages of Action Pursuit Games Magazine and Paintball News, along with sketches in PCRI (Paintball Consumer Reports International). Before long, writing was joined by photography and his professional journalism career was born! By 2000, Josh was on staff as the Assistant Editor of Paintball 2Xtremes Magazine, a position he held for several years before joining Paintball Games International as Associate Editor. Silverman held the Associate Editor position at Paintball Games International (PGi) Magazine until the magazine was shuttered during the world's economic down-turn. Silverman also contributed to practically every paintball magazine printed, from Paintball Magazine and Crossfire Paintball Magazine to Splat Magazine, Paintabll Sports Magazine, What Paintball Gear? Magazine (United Kingdom), Facefull Magazine (France) and others with both words and pictures. After the closure of PGi Magazine, Silverman joined the staff of new digital magazine, PaintballX3, as Associate Editor. Now, Silverman works as the Feature Writer for Paintball.Media, the most widely-read digital magazine of paintball sports in the world and the only regularly printed paintball magazine left in the world and enjoys sporadic work as a firearms and outdoors writer with freelance contributions published on such sites as Guns.com.
Silverman contributed articles, opinion columns, event coverage, photography and reviews for practically every paintball publication in which has existed in the paintball world, in addition to reviews on firearms and feature articles for magazines like HuntX3 Magazine and websites including Gunblog.com and FirearmsTalk.com. Featured columns Josh has penned include "The Bottom Line", an opinion column for Paintball Sports Magazine, "Promoter Diaries" for Paintball Games International and, most recently, "The Good News" for PaintballX3 Magazine.
When not writing about and taking pictures of paintball, Josh has done everything from working at local paintball parks and pro-shops to helping promote one of the largest paintball tournament series in the world, the CFOA, during its heyday in the early-to-mid 2000's, and working as a marketing, writing, photography and public relations consultant and manager for various companies throughout the paintball industry.

Review: The Eclipse EMek
As Published in Paintball.Media Magazine

Planet Eclipse has doubled-down on their entries into the world of mechanical paintball with their latest and least expensive offering, the EMek. A simple design with plenty of features and a low price tag, players looking to jump into mechanical paintball with an affordable yet competitive marker now have another amazing choice! READ MORE...


JOSH'S FAVORITE PICTURES
Review: The Eclipse CS2
As Published in Paintball.Media Magazine

It's the weapon of choice for paintball's top players and teams including the all-but-unstoppable Edmonton Impact, the always-dangerous contenders on San Antonio X-Factor, Scottsdale Elevation, NYX, Baltimore Revo, Aftershock and many more! Josh got his hands on the amazing Eclipse CS2 for Paintball.Media Magazine to find out what makes the current Planet Eclipse flagship tick! READ MORE...

Review: The Eclipse GMek
As Published in Paintball.Media Magazine

Eclipse created a storm of mechanical paintball excitement when they announced, and then released the GMek, a single trigger, mechanical version of their popular, affordable GTek spool valve semiauto. Used since then by San Antonio X-Factor to win the epic 2018 Iron City Classic tournament, the GMek is an impressive mechanical marker from one of paintball's legendary manufacturers! READ MORE...

Review: The JT Z200 Splatmaster Shotgun
As Published in PaintballX3 Magazine

Growing paintball means making sure everyone who tries our beloved game for the first time has a safe, affordable and incredibly fun time! JT stepped up to the plate to make that happen big-time when they released their Splatmaster line of .50 caliber, ultra-low-impact gear to the game that offers all the adrenaline with practically no felt impact to the player! READ MORE...