CARS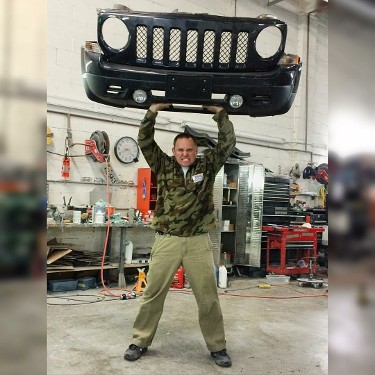 They don't call him "Jeep Silverman" for nothing. Or maybe they do. When Josh began a second (third?) career in auto body & collision repair as the manager of first Pro-Tech1 Collision Center, then (and currently) Belvoir Collision Center, he rapidly found himself regularly at-odds with Jeeps and the companies that insure them. Whether their particular peculiarities of design, build and construction between Chrysler and now Fiat and the challenges that arise from obtaining proper parts, or completing successful repairs that make both the owner and an insurancy company happy, it was always something and it wasn't long before his frustrations began to appear on his social media, where they were noticed by friends around the world who began to enjoy the shennanigans. At a large paintball event known as Living Legends several years ago, legendary longtime paintball scenario event producer Kerry "VIPER" Rosenberry presented Josh with his first "Jeep Silverman" jersey and the trend continues to this day.
Finally deciding to join them since beating them wasn't an option, Silverman purchased his first Wrangler, a red JK Unlimited, in 2017 and it has rapidly become the family favorite (especially of the dogs Yogi and Racer) for adventures to paintball events, state and national parks, shooting ranges, marinas and the daily adventure that is getting safely to work and back in the Northern Virginia area. Silverman quickly learned that JEEP stands for "Just Empty Every Pocket" as a stock JK added an aftermarket soft top with convertible, black-painted wheels, new all-terrain tires, rear American Flag light covers, a bullet antenna, paracord grab handles from Veteran Offroad and, likely sooner than later, a lift, cold air intake, exhaust, suspension upgrades and whatever else a credit card might be able to buy.
Now, severaly years into his collision repair career, Silverman fixes every kind of car and truck, but it seems to always come back around to the Jeeps for which, hilariously, he is now recognized for around the country and even internationally by paintball friends, co-workers and social media followers that Josh has virtually, and sometimes realistically, taken along on his journey over, under and through wrecked cars.
4Jimmie - The Restoration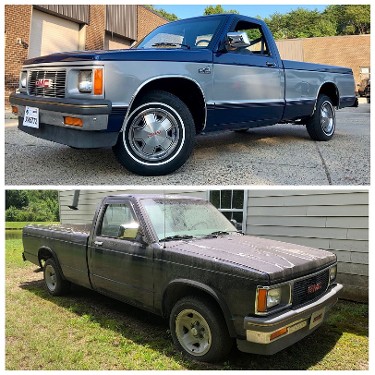 When Josh's wife Jennifer lost her beloved father, Jimmie, after a lifetime battle with cerebral palsy, they set out on a unique path to honor him - a truck restoration project. Jimmie's 1984 GMC S15 Sierra Classic pickup had been in the family since it was driven off the lot new in the days of the Cold War. Passed through several men in the Chapman family since that time, the S15 has weathered every storm and stood the test of time, culminating in its location in Conway, South Carolina in 2018 where it had seen better days.
Jennifer and Josh decided that, as the vehicle had been with the family, and Jimmie Chapman, since it was new, a wonderful way to honor his memory was to put their hands on the vehicle, haul it back to Belvoir Collision, and complete a bumper-to-bumper, body-off-frame, body, paint, interior and mechanical restoration of the vehicle to its like-new factory condition, or as close as time and means would allow. READ MORE...