Josh's Favorite Pictures
I shot this one in 2018 at the NXL Texas event at the Motor Speedway. The morning sun was ideal, the combat was intense and this guy was playing his ass off from the back corner. Almost everything was happening at once - he was being shot at and paint was breaking, showering him in spray, he was shooting down the wire and trying to hold his lane while reloading at the same time. Plus he had a little mud on him. It all just makes for great photography illustrating what our sport is all about!
Sometimes you do weird stuff to get the shot you're looking for. I took this for an ad for the VF-T Autococker for Worr Game Products several years ago. Thankfully all I had to do was stand in waist-deep freezing water at Abel Lake in Virginia to make it happen. Poor Nick, the subject there, he had to actually submerge in it. A couple of times. The good news? He made a full recovery and the ad did well. This photo even ended up on the back cover of a book!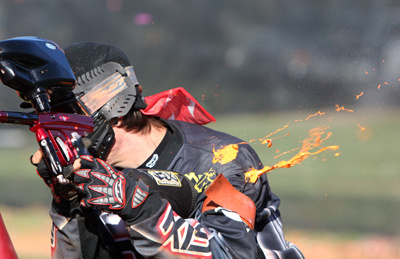 The "Holy Grail" for most paintball photographers is the ball break - to photograph a split second in time where a paintball flying 200 miles per hour is actually breaking on the person it was fired at. There are many photographers who make these shots look easy to take but trust me, they're not. To get two balls breaking in one frame, on one person, in one moment, wasn't easy either. In fact, I was shot directly in the testicles a moment after I got this shot.
Worth it? Not real sure.
While at the Culpeper Air Show a few years back, I had the opportunity to take some amazing shots of some spectacular sights, including a death-defying wing-walker who, upside-down, stood on the wing of a bi-plane. Heck, I still white-knuckle my seat during take-off on a commercial airliner. No idea what would have happened if that was me.
I've said it before and I'll say it again - I know fear when I see it. The look his face? That's fear. And I think we all know why it's there. Let's just say the aftermath was epic. This was taken a few years ago at the unbelievable Chatanooga, Tennessee paintball park known as Insane Paintball during a CFOA in the league's heyday that saw us draw over 100 five-man teams consistently. If you haven't been there, you owe it to yourself to go!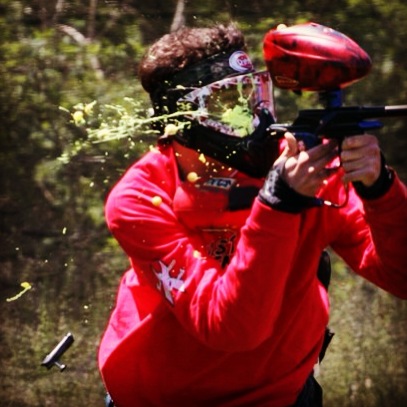 Sometimes as a photographer you catch moments on the field you wouldn't believe - and sometimes even capture things you didn't even know you got until you look at your pictures later. None of us could figure out how this guy got shot so fast on the break when the game started - literally a second after the horn. Only later when I was looking at my pictures did I figure it out - when he pulled his barrel cover off, he pulled his Ego's bolt pin up. When he started shooting on the bolt his first shot blew his own bolt at the back of his gun (see it down there to his right falling out?), and his next shot blew backwards out his gun rather than down his barrel, breaking on his own face. One in a million? I'd say. Dude should have bought a lottery ticket on the way home.
Maybe I should have too...
In many sports you gotta be fast. Most, in-fact. Football, basketball, track, etcetera. Paintball is no exception. In some sports you better shoot straight if you want to win. Like...shooting...I guess. I can't think of too many other sports where you have to be fast and a straight shooter all at the same time. Running sideways down the back-line towards your back corner bunker. While being shot at. And looking good. In 100-degree heat. So practice, then! Well, you guys practice. I'll take the pictures. And if you get it all right I'll make you look good.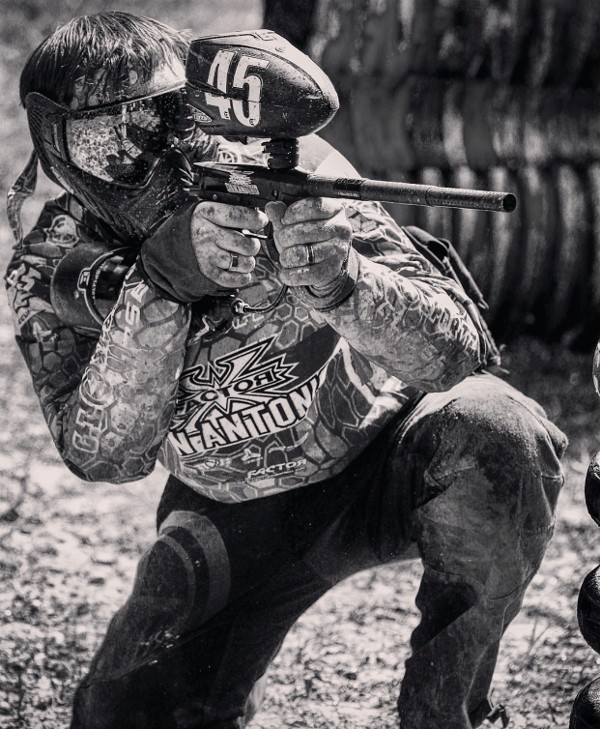 Colt is no stranger to my "Greatest Hits" gallery. He's been there for years, in-fact. And for good reason, as he's a hard-working, champion-caliber paintball player who's put in years at the very pinnacle of the game. Just getting there's no easy task and staying there, while younger, faster players challenge you for a spot with each passing season, is even harder. Much respect to Colt for holding it down at the top of the game season after season while consistently challenging for podium spots. At the recent Iron City Classic mounds, hyperball and woodsball event promoted by Tim Montressor, Colt and X-Factor battled their way to the gold trophy and I got a few good shots of Colt along the way, including this one he said he wanted black & white. I love the grit, grind, dirt, mud and paint splatter of Hyperball and woodsball - it's where I played my best paintball and I love photographing it today. I'm so glad Paintball figured it out and came back around!