Ruger SR1911 .45 Review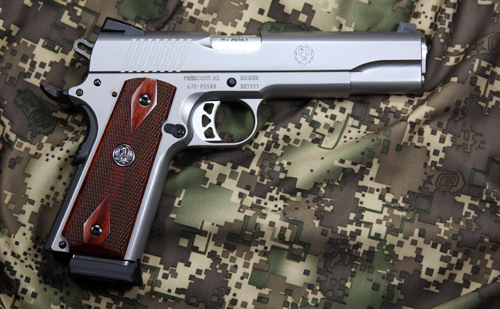 A feature-packed, affordable, all-American 1911 from a trusted name!
by Joshua D. Silverman - Photography by Joshua and Jennifer Silverman
To say that Ruger has been on something of a roll for the last few years is something of an understatement. From the LCR revolver to the LCP and LC9 concealable automatics to larger-framed pistols like the SR9 and SR40, plus tried-and-true pistols and revolvers like the P-series or SP101, to say nothing of their rifles like the 10/22 Takedown or Gunsite Scout Rifle, Ruger has pushed hit after hit out the doors and into the hands of consumers hungry for practically anything that goes "bang" as another election year is upon us. That said, two of the hottest segments of the firearms marketplace are currently AR-15-styled "black rifles" and 1911 automatic pistols. Ruger has both of those segments covered, one with their SR-556 piston-driven rifle and the other with their take on the more-than-legendary 1911 .45 ACP pistol, the SR1911. Though Ruger may be a comparative newcomer to the 1911 pistol game, their SR1911 model looks the part, hits the mark and delivers impressive performance at an even more impressive price!
Now a massive and successful American firearms manufacturer, Sturm, Ruger & Co. was founded in 1949 and has been listed on the New York Stock Exchange since 1990. Business has been so good, of-late, that in March of 2012 Ruger announced that the company had received orders for over one million (yes that's 1,000,000) firearms and that the company would temporarily suspend acceptance of new orders. In late May, however, the company announced that they would again be accepting orders from wholesale distributors. With headquarters in Connecticut and facilities in Arizona and New Hampshire, business for the company, along with its portfolio of firearms, looks very good indeed.
While Ruger may be celebrating over sixty years in the firearms business, the 1911 has, obviously, been around just a little bit longer. Designed by John Moses Browning to answer a need for stopping power by the United States military, his weapon was tested and adopted for use by the US military in 1911. Produced by Colt, along with other manufacturers when the need arose during times of war, and now by numerous manufacturers large and small, the 1911 pistol, firing the .45 ACP (Automatic Colt Pistol) round, has seen action as the sidearm of the US and allies from World War 1 and 2 through Korea, Vietnam and into the modern age. 1911 pistols are now manufactured around the world and demand has surged for the pistol, thanks in no small part to its well-earned reputation and its capability as both a defensive weapon and as an accurate, reliable pistol for use in competition or sport shooting.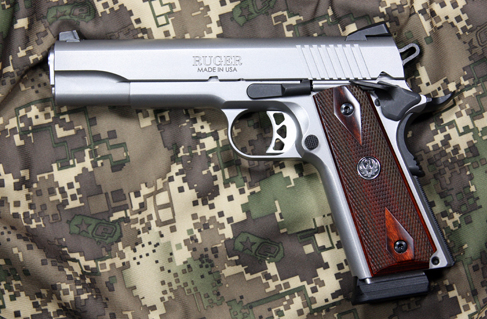 Now that the background of both the company and the pistol have been touched upon ever-so-slightly (volumes upon volumes could be written about the 1911 alone), we can get back to the point: Ruger now produces a 1911 pistol, the SR1911, which was released in April of 2011, just in time for the one hundredth anniversary of the 1911 pistol. While other 1911 pistol makers, from big names to small custom shops, offer 1911 pistols in a staggering array of barrel lengths, finishes, sizes, calibers and capacities designed to do everything from defend home and person to compete or be carried by law enforcement and military personnel, all at price points from a few hundred dollars to well into the thousands, Ruger offers one model 1911, in one finish, with one barrel length, in one caliber, at one price and simply leaves it at that. While this may leave some 1911 shoppers with no choice but to look elsewhere for the perfect pistol to fit their particular need, want or desire, there's something to be said for the philosophy of "one": do one thing and do it well. Ruger has done one thing with their 1911 pistol – build an affordable, reliable, accurate and attractive 1911 pistol and done that one thing well. (Editor's Note - Ruger now offers a full and robust line of 1911-style pistols in various calibers, barrel lengths, finishes and styles that were not offered at the time of this article's initial publication)
Released with the tagline "enthusiasts enjoy, competition beware," the Ruger SR1911 offers a long list of standard features any 1911 shooter, collector, enthusiast or carrier is certain to recognize and appreciate. These include "low glare" stainless steel construction, a five-inch, stainless steel barrel and bushing that are produced on the same machine from the same bar stock (a process that Ruger claims improves accuracy), a Series 70 design with a titanium firing pin, an oversized ejection port, extended magazine release, aluminum skeletonized trigger with an overtravel stop, a skeletonized hammer, an enlarged grip safety and large "beaver tail" along with an extended (though not ambidextrous) thumb safety and an aggressively knurled back strap. Novak three-dot sights are standard on the SR1911 and are more than adequate for most target shooting while providing fast target acquisition with minimal chance of snagging if drawn while carrying. The SR1911 is delivered with attractive hardwood grips inlaid with the Ruger logo, an eight-round stainless steel magazine that protrudes a bit from the grip frame and a seven-round magazine, also stainless, which fits flush. The Ruger SR1911 sat on my digital scale at two pounds, twelve ounces loaded with seven .45 ACP rounds. Though it may or may not be a performance feature depending on who you ask, the fact that the Ruger SR1911 is made in America by Americans is certainly worth considering for any patriotic firearm owner.
With an overall length just under nine inches, an over five inch height and an aforementioned weight creeping up on three pounds, the Ruger SR1911 is no tiny, concealed carry auto in the vein of Ruger's own LCP, LC9 or LCR, but it certainly wasn't designed as such nor intended to be one. That said, the right holster and clothing combination can make even a full-size 1911 like the Ruger SR1911 all but disappear and its slim, single-stack width of less than two inches make inside-the-waistband carry very possible for most people. With a Blackhawk inside-the-waistband holster, my Ruger SR1911 is practically unnoticeable even on my five-eight, 180 pound (I swear) frame in shorts and a t-shirt. During winter, carried either in the waistband or in a low-profile belt holster under a big sweatshirt or winter work jacket, my Ruger SR1911 just isn't there to most onlookers.
The Ruger SR1911's American, stainless steel construction and long list of features add up to an attractive, confidence-inspiring pistol when put in the hands. After hundreds of rounds downrange, I certainly found that confidence to be well-placed, as my Ruger SR1911 has experienced not one single hiccup or failure to function of any kind! The pistol has digested everything I've fed it, from range ammo for punching holes in paper and splitting milk jugs to higher-dollar ammo, with the same results every time – "bang." Though it isn't a perfectly tuned, expertly timed trigger pull exhibited by many 1911 pistols costing thousands of dollars, the Ruger SR1911's trigger pull is more than manageable better than some other stock 1911 pistols I've shot. The trigger breaks cleanly and resets perceptively, allowing shooters who learn the pistol to follow up easily and place shots, fast or slow, right where they need to go. Accuracy is, well, 1911 in nature. Rounds will go where the shooter intends to put them so long as they are experienced and willing to learn the characteristics of the pistol. At ten yards at a reasonable rate of fire, I can easily hold a better-than-fist-sized group and when shooting at targets farther out, or at higher rates of fire, groups open up but that's on me. At a recent trip to our local indoor range, I was easily able to chew a smaller-than-fist-sized hole out of the target at ten yards, though I did find myself shooting a bit high. The pistol's extended magazine release is easily found for quick reloads and the oversized (though again, not ambidextrous) safety is simple to sweep down with the thumb. Carrying the Ruger SR1911 "locked and cocked" can be done safely and fearlessly by those willing to do so.
Reliable, accurate, attractive, feature-rich and very, very well-priced at an MSRP of only $799, the Ruger SR1911 is an excellent pistol. 1911 aficionados who already have a five inch barreled model may not have a place for it in their collection, but those looking to enter the world of the 1911 for the first time or anyone looking for a solid, reliable and good-looking .45 of which John Browning would very likely approve will find the Ruger SR1911 an outstanding addition to their arsenal.
www.Ruger.com