Panther AP4 .308 Carbine Review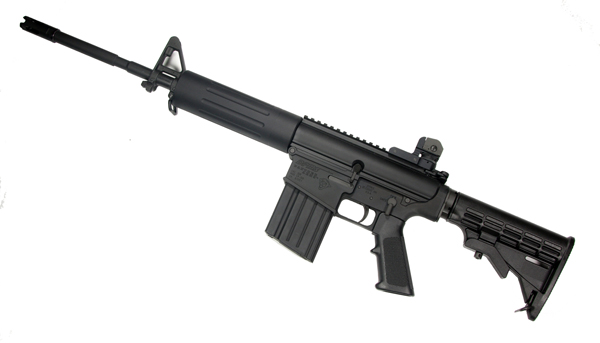 Panther Arms (DPMS) AP4 .308
Text and Photography by Joshua D. Silverman
Appears on Gunblog.com
The US has fought many wars carrying the M16 and M4 and law enforcement and civilian shooters continue to rely on the AR15 family of rifles chambered in 5.56 millimeter. However, many feel the 5.56 millimeter cartridge, especially through a rifle with a sixteen inch barrel, simply can't get the job done reliably when the chips are down. This issue has led both the US Military in Afghanistan and many shooters around the world to move away from assault weapons and their cartridges, that were intended to deliver "best of all worlds" performance, and back to weapons firing full-size rifle rounds offering maximum power and increased range. While there isn't much wrong with many of the tried-and-true rifles delivering their bigger bullets, there are new models available and a prime example on the civilian market is the Panther AP4 in .308, a compact AR offering the size and weight of an assault rifle combined with the power of a true rifle round.
Delivered with a sixteen inch barrel and telescoping stock like that found on the M4, the Panther AP4 in .308 offers shooters a weapon practically identical in size and very similar in weight to a short-barreled AR15 chambered in 5.56 millimeter, but in a hard-hitting, time-tested, longer-range cartridge. Shooters in search of a powerful, capable semi-automatic rifle but with a short, carbine-length barrel in a familiar platform would do well to spend some time at the local gun shop getting to know an AP4 in .308.

In addition to the aforementioned sixteen inch barrel and telescoping stock, Panther's AP4 rifle is delivered with a solid list of standard features. A gas-operated semiautomatic rifle, the AP4's barrel is made from 4140 chrome-moly steel, rifled with six grooves, features 1×10 right-hand twist rifling and is capped by an aggressive-looking Panther .308 flash hider. The barrel is shrouded by a carbine-length free-float handguard. The top of the 6066-T6 aluminum upper receiver, which is hard anodized and black Teflon-coated, features a Picatinny rail ready for scopes or sights. The lower receiver is made from 6061-T6 aluminum, is also hard anodized and black Teflon-coated and the magazine release button is aluminum. The AP4's bolt is heat treated and plated along with its bolt carrier. The overall construction, fit and finish of the .308 Panther AP4 is impressive.
A removable M16-style carry handle with a rear sight or a detachable rear iron sight are available on the AP4 and the front sight is a familiar-looking M16 style post. A forward assist with integrated shell deflector is standard, as is a dust cover and the pistol grip is the old standard, polymer M16 style. The Panther multi-position, telescoping stock is also made from polymer. Overall length of the AP4 ranges from 34 inches with the stock fully collapsed out to 38 inches with the stock extended. The rifle is delivered in a black plastic hard case with two 19 round magazines, a basic nylon sling and a cleaning kit. The Panther AP4 is a well-appointed, attractive "black rifle."

Thanks to its shorter barrel and polymer stock, the Panther AP4 is relatively light for a .308 rifle at 8.25 pounds empty. In comparison, a Panther AP4 carbine with a sixteen inch barrel chambered in 5.56 is just a pound lighter. The AP4 in .308 compares favorably in weight to other .308 rifles with identical barrel lengths as well. The Knight's Armament SR-25 weighs 8.5 pounds, the Springfield Armory SOCOM weights 9.3 pounds, the FNH USA SCAR 17S weighs 8 pounds and the FNAR weighs 8 pounds. The major difference, however, is that while many of these .308 rifles are advertised at or above two thousand dollars, the AP4 lists at $1,269! At the expense of just a single pound of weight and eleven rounds of ammunition per magazine, a shooter can put down a compact carbine in 5.56 and pick up a similarly-sized weapon that fires a proven, powerful rifle round.
Pulling the rifle from its hard case and hefting it in the hands, I was immediately impressed that it feels and could easily be mistaken for a 5.56mm AR. In some cases at the range this actually happened. As it is an AR platform, all the controls are where an AR shooter would expect to find them, dismantling the .308 AP4 is a familiar process and the rifle just feels good in the hands. Because the AP4's stock is polymer and the barrel is wrapped in a thick, metal free-float tube, the rifle can feel a little front heavy, but not drastically so. Those who want to forego the included sights in favor or a scope or dot sight will find the rifle ready, but unfortunately anyone looking to hang things like lasers, lights or a vertical foregrip from their .308 AP4 will have to replace the handguard with something that has extra rails, and that could be costly.

After lubricating the rifle's internal components, it was time to hit the range. Shooting 180 grain Winchester ammunition in windy, cool Fall weather at my Northern Virginia range, I was expecting the .308 AP4 to produce significant recoil and be a noisy beast thanks to its short barrel and lightweight, polymer stock. I couldn't have been more wrong. Pulling the rifle tightly into my shoulder and squeezing off my first round, I raised my head from the weapon with a smile and then got right back down to business. The rifle's recoil was simply not an issue even with the polymer stock; it pushed into my shoulder with a force similar to that of my 5.56 AR with an identical stock. Out of the box, the .308 AP4 can best be described as a comfortable carbine to shoot and this comfort translates quickly and easily into both accuracy and, frankly, fun! All I'd change would be the addition of a rubber recoil pad to the butt (more to keep the stock in my shoulder than to dissipate what little recoil the rifle produces) and, if I were DPMS, I'd bolt a couple of accessory rails onto its beefy handguard.

There's no point to a "fun" rifle, no matter how well it's made, if the person behind it can't hit what it's aimed at. As the weather had been nasty for a week before my day on the range, I was only able to shoot at 50 yards. Shooting from a standing position with open, unadjusted sights, my first three shots were on paper but about four inches low. Raising the top of my front sight post to compensate, I punched three more quick shots into the target and was very pleased with what I saw squinting downrange. My group was within an inch of the one-inch square at the center of the target and all three shots were within a roughly one-inch group. With the basic iron sights included with the rifle, a capable shooter will be dangerous for hundreds of yards. A hunter or marksman with a .308 APR can use a high-quality riflescope to be downright surgical. Accurate and powerful enough for mid-range sharpshooting or small to medium-game hunting, yet compact enough to be a devastating entry weapon or cruiser-mounted patrol rifle in law enforcement applications, the Panther AP4 in .308 is, for lack of a better term, one hell of a rifle.
Manufacturer's Website - www.DPMSInc.com