I think it's pretty safe to say that no matter what happens on the paintball field, this just isn't a position you probably ever want to be in, or plan to be in.
---
My wife Jennifer caught me mid-kaboom with a Desert Eagle .44 Magnum pistol last winter. That thing was fun to shoot and surprisingly accurate! She's not a bad photographer either (and she's a pretty good shot too)!
---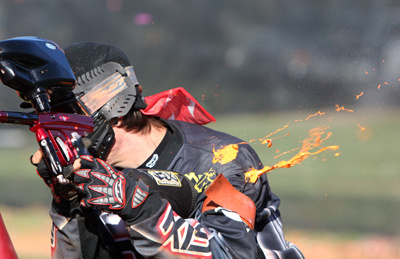 The "Holy Grail" for most paintball photographers is the ball break - to photograph a split second in time where a paintball flying 200 miles per hour is actually breaking on the person it was fired at. There are many photographers who make these shots look easy to take but trust me, they're not. To get two balls breaking in one frame, on one person, in one moment, wasn't easy either. In fact, I was shot directly in the testicles a moment after I got this shot. Worth it? Not real sure.
---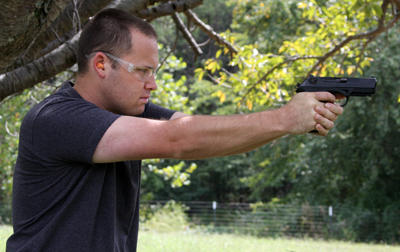 Again, Jennifer at work with the camera, helping me out with my review of the Beretta PX4 Storm I wrote for GunBlog.com a while back. Though I'm not a Beretta owner, if I were, it'd be a Storm. I really liked it! Go read my review in the articles section or on GunBlog.com!
---
Speaking of shots it might or might not have been worth it to get, I took this for an ad for the VF-T Autococker for Worr Game Products several years ago. Thankfully all I had to do was stand in waist-deep freezing water at Abel Lake to make it happen. Poor Nick Rackley, he had to actually submerge in it. Good news? He made a full recovery and the ad did well. This photo even ended up on the back cover of a book!
---
Shooting my Romanian AK on a beautiful January day, surrounded by great friends and family. Once again, Jennifer doing the honors of taking the photograph (when she wasn't emptying a box of .45 ammo...)
---
I've said it before and I'll say it again - I know fear when I see it. The look his face? That's fear. And I think we all know why it's there. Let's just say the aftermath was epic. This was taken a few years ago at the unbelievable Chatanooga, Tennessee paintball park known as Insane Paintball. If you haven't been there, you owe it to yourself to go!
---
As usual when I shoot, Jennifer is kind enough to hold the camera when she's taking a break from her 1911 or .38 revolver. In this shot, I had just emptied the magazine of my friend's Springfield 1911. I'm a Ruger fan myself (yes even when it comes to 1911's) but that Springfield shot AMAZING! Amazing enough that I immediately went out and bought one for Jennifer for Christmas, anyway...
---
Breaking paint always makes for a great photograph, even if it's the shooter's paint that's breaking when the shutter closes. As fast as modern paintball guns are, sometimes the shooters have paint in the air before they've even cleared their own bunker and while some just do what this particular ball did, others ricochet off at wacky angles and annihilate innocent bystanders...like photographers...
---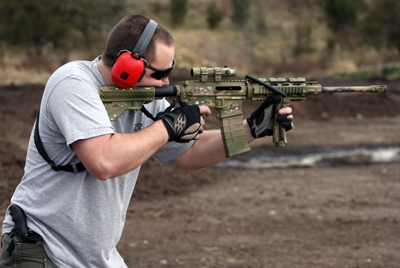 Getting my DPMS AR15 dirty on an unseasonably gorgeous day in January out near Remington, Virginia. I've since changed up the setup of my AR, though that gorgeous duracoat job by Will Conlee endures for yet another season! By the way, those Empire paintball gloves are some of the best shooting gloves I've ever worn!
---
Our Flag, our Nation. Either you love it or you don't. If you don't...leave. Seriously. If you don't love America and believe that we are one nation, under God, what are you doing here? By the way that's my friend Ron Green performing color guard duties at a paintball event a few years back.
---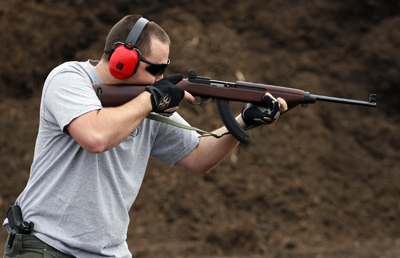 Thanks, yet again, to my lovely wife Jennifer, I have a nice photograph of me breaking in one of my newest firearms, a Ruger 10/22 rifle that my good friend Darin and I built as a replica of an M1 Carbine, complete with the sling, oiler and GI-style front and rear sights. I was blown away by how accurate this little rifle, with those sites, really is!
---
Walking throught the woods in the aftermath of a massive game at the legendary Skirmish USA fields in Jim Thorpe, PA, I discovered this - a Skirmish paintball lodged in a tree. I can only imagine this guy must have somehow made it past the chrono judges.
---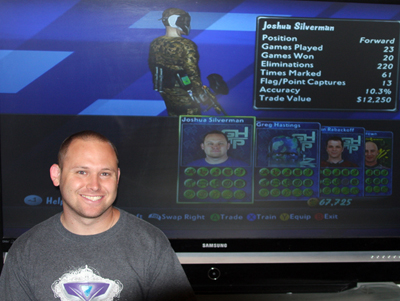 My good friend Greg Hastings was kind enough to let me sneak into his latest video game, Greg Hastings Paintball 2 for the XBox360. Have you played through it long enough to unlock me? I told Greg I think he overpriced me, but either way it's fun to play and be included!
---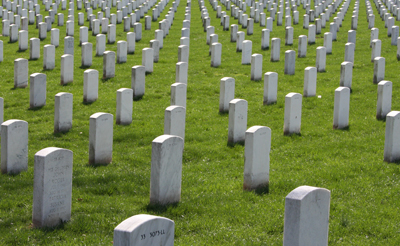 Lest we forget the fallen, I took this one (amongst others) while I was visiting Arlington National Cemetery last year. Knowing that all these represent a fallen hero who gave everything to defend our nation and our freedom is humbling.
---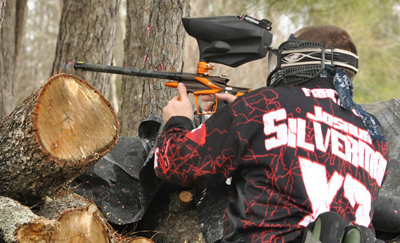 Thanks to my good friends at PBUprising.com, I have this nice picture of me playing a great game of paintball at Adventure Beach Paintball, a park near Myrtle Beach that I once worked at. While I was there, I was able to do some in-game testing on the initial, pre-production prototype of a certain new hopper. It shot great! Of course, so did the other gear I was using that day, including a Stiffi barrel, Ego marker and Ninja compressed air bottle.
---
While at the Culpeper Air Show last year, I had the opportunity to take some amazing shots of some spectacular sights, including a death-defying wing-walker who, upside-down, stood on the wing of a bi-plane. Heck, I still white-knuckle my seat during take-off on a commercial airliner. No idea what would have happened if that was me.
---
Julie Livengood snapped this great shot of me playing paintball at one of the last tournaments in which I actually competed, the Lauren's Hope Charity Tournament in...wow...probably 2006? I had a great time, other than the fact that it was absolutely FREEZING that day.
---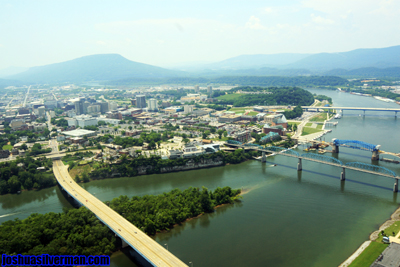 This is a little aerial photography from the other end...actually inside the plane shooting down instead of standing on the ground shooting up. I was in a plane over Chattanooga, Tennessee during a CFOA event I helped promoted many years ago, and while we were on our way to orbit the amazing Insane Paintball facility there, I was able to photograph the city as well!
---

My friend Ronn Stern is an amazing artist. He was kind enough, a few years back (when I had more hair and a thinner waist) to do a great sketch of me that I really do love. A unique, special thing like this doesn't happen all the time, especially in paintball, which makes me appreciate it, and Ronn, all that much more.
---

Took this great shot of a Harrier jet in the middle of its vertical take-off at an air show in 2011 near Culpeper, Virginia. What an amazing plane! The pilots who fly them are nothing short of amazing too and this gentleman was certainly no exception!
---

While on our honeymoon in St. Maarten, we spent some time in the ocean over by the airport and the planes were landing so close overhead you really got the feeling you could reach up and catch a ride! That's Jennifer down there on the right swimming with her Aunt while a plane lands just above them!
---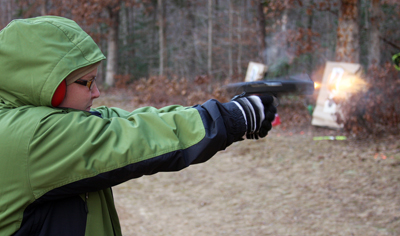 Jen loves to shoot. Maybe not as much as me, but she does love it and she is actually very good at it. I think if she had the time to devote to it, she could be exceptional. She's so good and enjoys it so much I recently bought her a Springfield 1911 for Christmas and got a few shots of her shooting it. This one I managed to snap just as she broke the trigger on her new pistol.
---