Charter Arms Revolver Review
The Charter Arms Undercover Lite
An affordable, reliable, lightweight and American-made concealed carry revolver!
Text and Photography by Joshua D. Silverman
As Published on FireArmsTalk.com, an outstanding and friendly internet Firearms Community online at www.FireArmsTalk.com
Whether political, economic or social, debate the causes all you want but the effect is undeniable – more responsible, law-abiding American citizens are exercising their rights to own and carry a firearm for protection of life and family every day. In my home state, the Commonwealth of Virginia, firearms purchases are off the charts and firearms retailers, from "big box" retail stores to local gunshops, are busily handing devices that go "bang" across the counter to everyone from new shooters to seasoned enthusiasts. At a recent gun show in Fredericksburg, my wife finally decided the time to obtain her concealed carry permit and a firearm suitable for daily carry had come. After an hour or more of browsing the various tables at the show she selected for herself a Charter Arms Undercover Lite revolver, a Santa Fe model in an attractive blue turquoise and black finish. As I had never fired a Charter Arms revolver in my many years of shooting, writing and photographing shooting and working in a gun shop, I made it clear that we would extensively shoot and evaluate it in the weeks between my wife's application for her permit and her first day trusting her life to the little revolver once her permit was in her wallet. The culmination of these last several weeks of regularly shooting the Charter Arms Santa Fe Undercover Lite revolver have revealed it to be an affordable, reliable, lightweight American revolver in which a shooter can confidently place their trust.
Having made revolvers in the United States since 1964 when founder Douglas McClennahan and company initially released the five-shot Undercover, Charter Arms continues to crank out wheel-guns today from their Shelton, Connecticut facility and offer them with a confidence-inspiring lifetime warranty. Made from a lightweight combination of aluminum and steel, the Santa Fe is advertised to weigh twelve ounces, a number that held up to scrutiny reasonably well as it sat on my scale at thirteen ounces and change. By comparison, this is literally half the weight of the venerable Ruger SP101 in .38 Special with a similar barrel length, though the Ruger is constructed entirely of stainless steel. Loaded with five rounds of Federal .38 Special ammunition, the Undercover Lite Santa Fe hits the streets at a single, comfortably carried pound.
As I first handled my wife's new firearm, I was immediately pleased with its full-sized rubber grip that, unlike the standard grips of so many short-barreled .38 revolvers, didn't make my pinky feel like it wasn't invited to the party. While the model my wife selected offers double and single-action shooting thanks to a knurled, spurred hammer, those concerned about snagging can always opt for a double-action-only model, though these are not available in as wide an array of colors.
With its two-inch barrel, fixed ramp front sight and notch in the top-strap for a rear sight, the Charter Undercover Lite Santa Fe isn't exactly a target shooter but this is not its intended purpose. That said, I was extremely impressed with my initial results at the range. At seven yards, in both single and slow double-action fire from a standing, two-handed grip, I was easily able to keep all five shots in a fist-sized group in center of mass on paper. Out at ten yards groups did open up a bit but only to a hand-sized group. My wife, a newer shooter, quickly learned the long but relatively soft, smooth trigger pull of her new Charter and was able to keep all of her shots in minute-of-angry-bad-guy's-chest at seven yards and over the weeks, these groups continue to shrink in size. While very good for keeping control of the small .38, the Charter's rubber grips do still leave a shooter's hand a bit sore after a couple of boxes at the range. Reloading is simple as the cylinder release is large and easy to find with the thumb. Practice is necessary here, however, as the cylinder swings open very close to the revolver's frame and this, combined with the width of the rubber grip, allows very little clearance for an HKS speed loader, though they can be used (they're HKS number 36). Speed strips are, of course, also an option.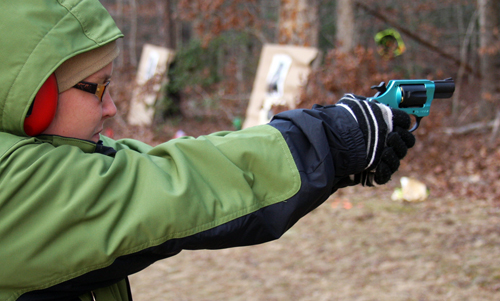 Even after evenings at the indoor range or long afternoons at the outdoor range with friends, the Charter Arms Undercover Lite digested every brand of inexpensive range ammunition we could find to push through it like a good revolver should. Though dirty after those long sessions, the Charter continued to function and fire flawlessly and to this day, not a single malfunction has been encountered with the revolver, with over three hundred rounds of .38 Special ammunition fired through it.
Delivered in a padded, black plastic case at a suggested retail price of just over four hundred dollars, shooters willing to spend a little time shopping can easily find a Charter Arms Undercover Lite at closer to three hundred or less (like my wife). Made in America and backed by a lifetime warranty by a company that has been around since the sixties, the Charter Arms Undercover Lite Santa Fe may be my wife's gun, but I always make it a point to spin the wheel (raggedy man?) a few times whenever we hit the range. Its simple and proven form, reliable function and great price have proven to me that "inexpensive" doesn't always equal "cheap" in a small, concealable firearm and I'm more than confident in my wife's decision to trust her life to this turquoise .38 revolver.
Company Website: www.CharterArms.com