Beretta PX4 Storm Pistol Review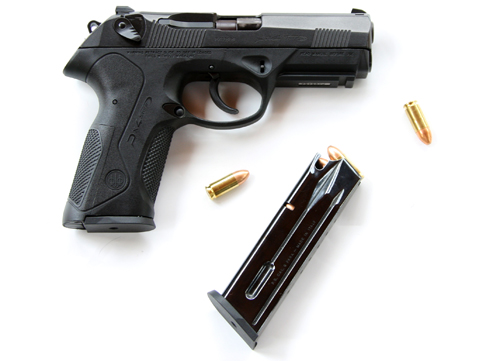 By Joshua D. Silverman
Photography by Joshua D. Silverman and Jennifer C. Silverman
As published on GunBlog.com
The name "Beretta" carries with it a rich and storied history, and while for some it conjures images of fine shotguns or even a submachine gun, carbine or assault rifle, many know the Italian company as a producer of pistols. Models like their 92FS or M9, as used by numerous law enforcement agencies and the United States military, earned its place in history as the nine millimeter semiautomatic pistol that replaced the legendary 1911 .45 ACP in 1984. For some that's sacrilegious, for others a sign of the times and for others a natural progression and there are plenty of true believers who will argue whichever side they happen to believe in.
Arguments aside, what is certain is that Beretta is one of the most respected and legendary names in world firearms history. The company knows how to make weapons that various world law enforcement agencies and militaries rely on to go "bang" every time, and that the 92 series of pistols is one of the most recognizable silhouettes in the shooting world. Moving beyond the rich history of Beretta and its successes to-date, the next big thing in pistols from the Italian manufacturer is the PX4 Storm.
A fiberglass reinforced, polymer framed semiautomatic pistol with a steel slide, the PX4 Storm takes a great deal from the successes of the 92/96 FS series but provides the owner with a lighter, more compact and versatile pistol. The PX4 Storm is more ideally suited to daily carry by civilians or law enforcement personnel, who may have to carry their pistol concealed. Utilizing a rotating barrel, locking breech system advertised by Beretta as the strongest they manufacture, the PX4 is available in nine millimeter or .40 S&W in full, compact and sub-compact sizes and in the venerable .45 ACP caliber in full size and "Special Duty" models.
The PX4 Storm's availability in such a wide range of calibers allows those who prefer the affordability and high ammunition capacity of nine millimeter Luger to carry as many as 17 rounds, those who enjoy the capabilities of .40 S&W to walk around with as many as 14 rounds (depending on the model), and those who demand the legendary stopping power of the .45 ACP round to bring ten big bullets to the fight. Whether a full-size duty pistol or an extremely concealable yet high capacity subcompact is desired, the PX4 Storm aims to attack the extremely successful lightweight, yet high capacity steel and polymer pistol market so long dominated by the Glocks and XD's of the world.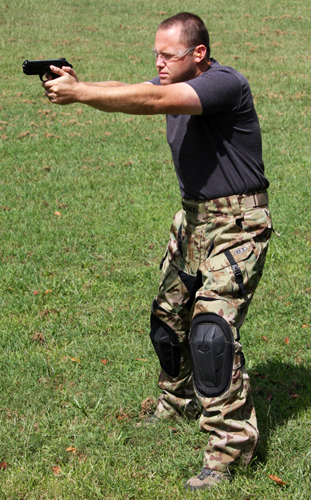 In terms of handling, size and weight, the PX4 Storm is dressed to impress. Even in its largest, heaviest, longest-barreled model, the Storm is still several ounces lighter than the successful 92FS. In fact, whether a subcompact 9 millimeter or a full size .45 ACP, every Beretta Storm weighs in between 26 and 28.6 ounces empty. By comparison, the Glock 19 weighs approximately 21 ounces empty, the Glock 21 weighs just over 26 ounces, a Springfield XD compact weighs in at 29 ounces and a Taurus 809 pistol tips the scales at just over 30 ounces. While it's not a lightweight, the PX4 Storm is certainly no heavyweight bruiser either. Rather, consider the Storm a very competent middleweight that can punch well above its class thanks to capable calibers and ammunition capacity. At less than an inch and a half in width with a smooth-sided slide, the Storm can easily be slipped into an inside the waistband holster and worn comfortably all day. As a person who carries all day, every day, I found this to be a valuable commodity.
A Beretta PX4 Storm shows up with plenty of extras that add value and user-friendliness to its list of standard features. The Storm is delivered with three checkered back straps that allow the individual shooter to tailor the size of the grip to their hand for the best possible fit and the magazine release is reversible, allowing left and right-handed shooters to, again, tailor the pistol to their requirements. Larger magazine release buttons are also available. On all but the "C" model PX4 Storms, an ambidextrous manual safety/decocking lever is standard. All PX4 Storm pistols are delivered in a padded box with two magazines. Those who have fired Beretta pistols in the past will find the controls in familiar places, while those new to the model will need only a few magazines to start becoming accustomed to its configuration.
The hammer of the PX4 pistol is external, allowing the Storm to function in Single Action or Double Action mode. Each PX4 Storm features a chrome-lined barrel, and these range in length from three inches in the subcompact models to four inches in full size models and 4.6 inches on the "Special Duty" .45. All of the Storm's barrels are rifled with a right-hand twist with six grooves, and three-dot white sights are standard on all models. A Picatinny sight rail is also standard, forward of the trigger guard, allowing shooters to mount anything from lights and lasers to a pistol bayonet (if that's something you're into, we won't judge you).
Though I enjoy writing about firearms and all the research, web searching and face-time with local dealers or company representatives that go along with it, the real fun began when I came out from behind the keyboard and picked up a PX4 Storm. Lifting the pistol from the box, I was excited with just precisely how well the PX4 Storm fit into my hands. I'm a somewhat small guy; five-eight and 180 pounds, with reasonably small hands (but don't let that fool you). I've carried everything from Glock 19, 22 and 27 models and a Colt Commander 1911 to an FN FiveSeven and a .357 revolver and I've often found that smaller autos or single-stack magazine models fit best in my hand. The PX4 Storm broke that mold, even with its double-stack capacity, as I could get my hand around it comfortably and I didn't find myself reaching around the frame looking for the trigger. All the controls were convenient, including the magazine release, slide release, safety/decocker and the hammer. The pistol sat low in my hand and pointed very naturally. So far, so good, so the next stop was the range.
All testing I performed on the Beretta PX4 Storm nine millimeter was conducted at a private range in Northern Virginia. Weather was a sunny eighty degrees with low humidity, light winds and bright sunshine. Shooting was undertaken from both supported and unsupported positions at measured distances of ten yards and twenty-five yards using new, factory Fiocchi 115 grain FMJ and Remington UMC 115 grain ammunition. Because I like a challenge (or maybe because that's where I set up the bench and the targets before I began, I started making "bang" happen at twenty-five yards from a seated, supported position. Pleasantly, my entire first magazine through the PX4 Storm found paper and grouped nicely, though I found myself shooting a little low. A few deep breaths and a consciously slowing down of my trigger pull corrected this completely and tight groups at center of mass were easily held at twenty-five yards. The double action pull of the Storm is, as expected, a long one, but not overly stiff. Once single-action fire is opened, the shooter will love the practically non-existent trigger pull and the ability to place shots into bulls-eyes near and far with little effort.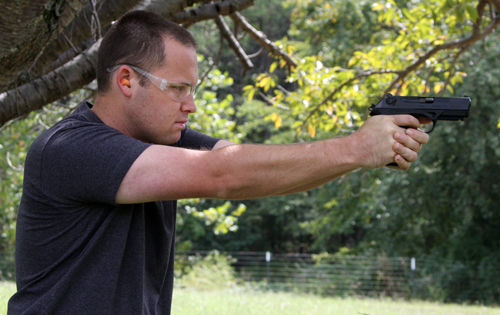 At ten yards, shooting from a standing, two-handed position, the Storm truly shined. Though I'd hardly put a handful of rounds through the pistol to that point, putting holes in paper through a one-inch square was easy and follow-up shots stayed true, thanks in no small part to the nine millimeter cartridge and the very light and manageable recoil of the pistol. Picking up the three-dot sights as a shooter brings the pistol out towards the target is quick and instinctive. Throughout testing, the PX4 performed flawlessly and ate every brand of ammunition I could find without a hiccup. Simply put, the PX4 Storm is a very enjoyable pistol to shoot.
Furthermore, dismantling the PX4 Storm for cleaning is simple: Glock owners will find the process extremely familiar. The owner simply ensures the pistol is unloaded, lowers the disassembly latch and allows the slide to come forward, completely off the frame, providing access to the recoil spring and barrel. The entire process takes roughly the same amount of time as it would with a Glock; for experienced shooters this means less time than it took to read this sentence. New pistol owners or those who like to keep things simple would do well with the PX4 Storm, as the disassembly and reassembly process is simple, clearly explained in the manual, and as close to "idiot-proof" as can be.
At a suggested retail price of five hundred dollars, the Beretta Storm is slotted to compete head-on with the striker-fired XD's and Glocks of the world, striker and hammer-fired Taurus pistols like the 24/7 or PT809, and comes in well under the suggested retail of striker fired Smith & Wesson M&P pistols. For the price, any shooter giving the Beretta PX4 Storm a chance will be impressed with the amount of pistol they receive for their money.
Since its introduction, the Beretta PX4 Storm has found several respected law enforcement agencies appreciative of its merits. In May of 2008 Beretta announced that the Maryland State Police would be replacing their Model 96 pistols with PX4 Storms, over one thousand of them to be exact, in .40 S&W caliber. The press release also noted that the Providence, Rhode Island Police and the Canadian Border Services Department had also chosen to adopt the weapon and I can see why. Versatility, simplicity, ergonomics, accuracy, reliability, capacity and concealability are all there, leaving the shooter to simply put various models at his price range in his hands, try before they buy at the local range and then decide on preference. The PX4 Storm pistol is an outstanding semiautomatic, hammer-fired pistol, ideal for home defense, daily carry, duty carry or just having fun at the local range enjoying our Second Amendment rights.
MSRP: $499
www.BerettaUSA.com